MODERN GOALTENDER
Instructor: Angelo Lazzara
Goalies
Pivots quicker ans properly
C-cuts / T-push / Shuffle
Rebound control / Steering
Butterfly
Improve reaction time
Proper stance & glove positioning
Playing angles
Gap control
Tracking the puck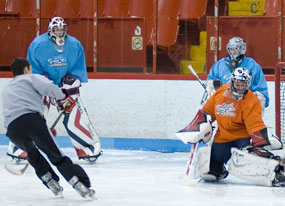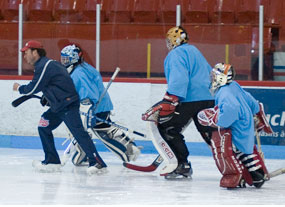 The most important position in modern hockey is without a doubt the goaltender. Goaltenders must face players who are getting bigger, stronger and faster with harder and more precise shots.
WHY ENROLL IN A GOALTENDING COURSE ?
It is the position which has evolved the most in the past 20 years. New techniques, such as the butterfly, have become the norm. The best way for a goaltender to develop is to work on these techniques, as early as possible.
WHAT ARE THE ADVANTAGES OF OUR GOALTENDER PROGRAM ?
The techniques taught will aid the goaltenders master the position of the goalkeeper, all the while developing their speed, power, mobility and confidence.
Next sessions - T.B.A.
Consult our detailed schedule and register on line.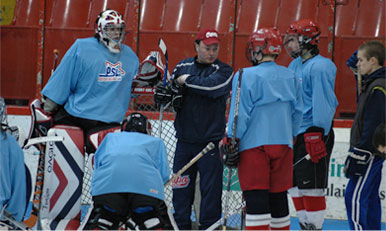 « An excellent way to learn and perfect the techniques inherent to being a goaltender and becoming a better net minder. »