DEFENSEMEN
Defensemen
Defensemen Power Skating
1 vs 1, 2 vs 1, etc...
Slap Shots under pressure
Puck Handling on the boards
Gap control
Diving
Plongeon
Protecting the front of the net
Breakouts
Working with Goaltenders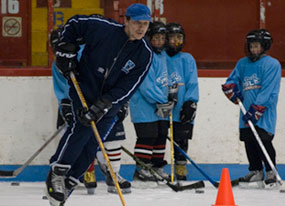 A defenseman needs to learn how to react properly during game situations, read the play while it is developing in front of them, and make a strong first pass. These skills require a defenseman to possess superior skating skills (especially backward skating), checking and man-coverage skills.
WHY SHOULD YOU REGISTER FOR DEFENSE SPECIFIC TRAINING ?
The reason is that being a defenseman requires a very specific skill set. You therefore need to be trained in these areas
WHAT ARE THE MAIN ADVANTAGES OF OUR DEFENSEMEN PROGRAM ?
The defensemen will learn; positioning within the 3 zones and this, within game situations. They will perfect skating techniques specific to the position, crease protection, how to make a proper 1st pass, how to play 1 vs. 1, 2vs 1 and how to play along the opposition blue line.
Next sessions
Spring session
DEFENSEMEN
10 Hours - 488.64 $
(taxes included)
Dates :
April 22-29 ,
May 6-7-13-14-20
Defensemen Intensive Camp 1
5 days from August 14th to August 18th 2023
Price: 574.87 $
(taxes included)
Consult our detailed schedule and register on line.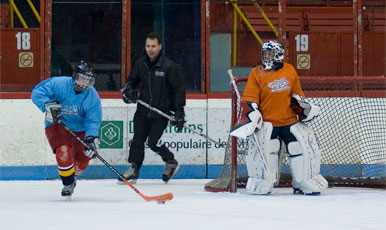 « As well as being a fantastic way to keep in shape, the programs taught will help players develop their speed, power, mobility, agility and confidence. »